:: HOMESTAY (LIVE WITH A LOCAL FAMILY) Probably a third of our students stay in this option, this is a popular option and the most effective way to become fully immersed into the language and culture of the country. This option offers less formal supervision and you will expected to travel independently to/from the school each day, normally by public transit.
This option is recommended for the more independant & mature teenager (aged 16+) however they must abide by the same rules & curfew times as the teenagers staying in the residence option.
We have specific requirements that our families must meet before they are invited to host our international students. We require that the families live within a reasonable distance from the school, have ample living space for the student, and live in a clean, safe and comfortable environment. We also work with families who enjoy hosting international students.
The family will treat you as a guest and you will be expected to obey some basic house rules, you will have access to all living areas in the house. Experience has shown us that living with a family is the most interesting and effective way to become fully immersed in your host country's language and culture.
Your host family will always do their best to engage you in daily conversation while making you feel as though you are in a "home away from home". Remember your host family will have different customs and habits than perhaps you are accustomed to, and meals will be prepared according to local custom.
Normally you will eat the same food as the family. Unless you have indicated special diet restrictions on your application form, you should not expect your family to make you special meals. If you can't live without your favorite type of food, we recommend you buy it in a local supermarket.
Homestay does not always mean a traditional married couple with a child/children. Above all we look for someone who is sociable, likes to meet new people and can give a warm welcome to our students.
A few things to consider when staying with a family
:: Private or double rooms may be available depending on your destination
:: Most families include breakfast and dinner daily (packed lunch).
:: In most cases; students will be expected to share the bathroom with the family
:: Families are usually located within:
5 - 25 minutes from the school by public transport
:: Each student will be given a key to their accommodation and will be able to come and go as they wish with set6 curfew times.
:: Please bring towels with you bed linens and pillows will be provided
:: You will be expected to do your own laundry unless your host family offers and in this case they may charge you a small amount. Alternatively, you can take your laundry to a launderette or dry-cleaner.
:: It is recommended, as a courtesy, to inform your family of any visitors that you might have. Under no circumstances are you allowed to have overnight guests.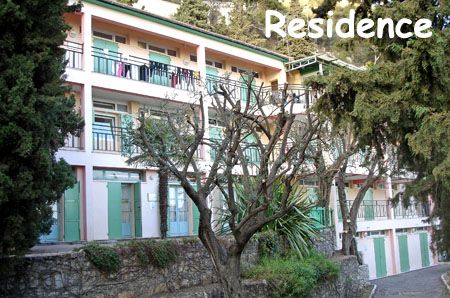 :: RESIDENCE (on & off campus) Probably two thirds of our students stay in the residence option, this is probably due to teenagers wanting to live together!
This option offers more formal supervision and our staff live with the teenagers in the residence. Teenagers must abide by rules & curfews.
:: Each residence varies in location, size and number of bedrooms, but expect to share with other students studying at the school.
:: Private or double rooms may be available depending on your destination
:: Residence's self catering so no meals are provided and most residences do not provide a kitchen so meals will be taken out or in the residence cafeteria
:: In some cases; several students will be expected to share a bathroom
:: If the residences is not located on campus it is usually located within:
5 - 15 minutes from the school by public transport or walking distance