YOUR LANGUAGE VACATION INCLUDES SUPERVISED ACTIVITIES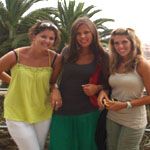 Once lessons are over for the day, teenagers will enjoy a schedule of activities and excursions together.
Below is only a "sample schedule" as each our schedule rotates but will give you an idea of what to expect in Barcelona.
WHAT TO EXPECT ON A TYPICAL DAY IN BARCELONA
8.00am - 9.30am: Day starts, enjoy breakfast with other students and prepare for classes.
9.30am - 12.30am: Language classes begin, with a small break after the first 2 lessons
12.30am - 2.00pm: Classes finish for the day and you will enjoy lunch together. For students attending the Intensive course, they will go back into class for 2 additional lessons
2.00pm - 4.00pm: Organized activities together with our staff supervising
4.00pm - 7.00pm: Free time, check e-mail, call home, go for a walk, shopping etc
7.00pm - 11.00pm: Enjoy dinner before heading out for a supervised evening activity
11.00pm: Return to your lodging and head to bed!
EXAMPLE OF AFTERNOON ACTIVITIES IN BARCELONA
Guided city tour
Swimming in public pool
Trip to beach
Sporting event
Shopping trip
Visit Museo Picasso or Museo Arte Contemporaneo de Catalunya
Guided walks through historical Barcelona
EXAMPLE OF EVENING ACTIVITIES IN BARCELONA
Spanish movie night
Concerts or festivals
Discotheques
Flamenco shows
Teleférico Planetarium
EXAMPLE OF EXCURSIONS IN BARCELONA
Half day trip to the coastal town of sitges
Half day trip to Las ramblas
Half day trip to Aqua park
Day excursion to city of Gerona