YOUR LANGUAGE VACATION INCLUDES SUPERVISED ACTIVITIES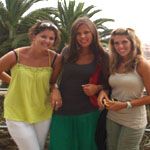 Once lessons are over for the day, teenagers will enjoy a schedule of activities and excursions together.
Below is only a "sample schedule" as each our schedule rotates but will give you an idea of what to expect in Heredia.
EXAMPLE OF ACTIVITIES IN HEREDIA

:: Dance class: Dancing is a vital aspect of Latin Culture. Students learn Salsa, Meringue, as well as other traditional dances.
:: Cooking class: Students prepare some typical Costa Rican dishes and learn vocabulary for the main ingredients used in Costa Rican cuisine.
:: Barbecue: Students will enjoy a great barbecue while taking in some sun and swimming at the school's swimming pool area.
:: Service Learning:
:: Schools: Participants have the opportunity to volunteer at public schools in economically depressed areas. Each volunteer works with a group of 7-12 year-old students. Activities include: teaching basic English to the children, singing songs in Spanish and English, maintaining the school's facilities, and working in the school's vegetable garden with the children.
:: Environmental protection: This project takes part in a national park close to Heredia. Students help park staff with reforestation, building and maintaining trails, and protecting wildlife. Students participate in seminars about park rangers' jobs, problems they face, resources they have to protect the environment, and the efforts the national parks system makes to preserve Costa Rican nature.
:: Orphanage for Children: This is an orphanage for girls ages 4 to 11. Activities for participants involve recreation, support to the orphanage's English teacher (teaching songs and vocabulary), and help with cleaning and maintenance.
:: Nursing Home: This is a nursing home where senior citizens go for the day only. Students help with recreational activities, such as playing cards and bingo, singing songs, and helping women with their make-up. Further activities include helping the staff to clean and serve meals.
:: Recycling: This project takes place in a neighborhood where the residents have organized a center where people bring recyclables to be sorted before sending them to recycling centers. Students sort these recyclables and participate in lectures about the consequences of pollution to the environment and future generations. Students also learn how they can help prevent pollution and reduce the amount garbage they throw away.
:: Coffee Tour: Students visit the Café Britt "finca" (coffee farm) where an entertaining bilingual presentation describes the historical importance of coffee to Costa Rica. The tour also shows parts of the production process and ends with a coffee-tasting session.
:: Arenal Volcano: Two days - one night. (Transportation, hotel accommodations, and meals included) Visiting an active volcano is an experience students will never forget. The best time to see it is at night when the lava flows from the volcano can be seen. Participants also visit a natural hot springs spa close to the volcano.
:: Poas volcano & waterfall: This field trip includes a visit to Poas Volcano and La Paz Waterfalls. Students see huge coffee plantations, dairy farms, and enormous cultivations of strawberries, blackberries, ferns, and ornamental flowers along the way. The Poas volcano has the largest active crater in the world (almost a mile across).
:: Canopy Tour: Students will enjoy the experience of being on suspended platforms which are located high above the forest floor. These platforms are connected by steel cables that have been specially designed for people to slide across, allowing for the discovery of the flora and fauna of Costa Rica.
:: Isla Tortuga: A favorite among the students, the Isla Tortuga tour begins with an hour ride on a catamaran to this beautiful white sand beach. Students enjoy the sparkling ocean and scenery offered by the picturesque islands of the Gulf of Nicoya along the way. The ocean surrounding Tortuga Island is quite calm. Students have many options available there such as snorkeling, kayaking, swimming and sport activities on the beach.
:: Punta Leona Beach & Surf Class: Students travel to a Biological Reserve on the Pacific coast. They visit one of the few places in the country showing Costa Rica's unique geographical transition between rainforest and dry tropical forest. This characteristic makes this trip educational as well as fun since a wide diversity of birds, plants, reptiles, and other mammals exists. After hiking in the forest, students go to a hotel on the beach where they enjoy the hotel's facilities. Students will enjoy a surf class.
:: Amusement Park : This is an opportunity for students to compare the amusement parks they have at home with the only one that exists in San José. This park has few roller coasters and other exciting rides, and there is an area which depicts how Costa Ricans lived in the past.
:: Country Club: Students visit a country club with swimming pools, basketball courts, soccer fields and other sports facilities to enjoy a relaxing day and the chance to interact with Costa Rican teenagers and fellow students.
:: Day with Host Family: This is an opportunity for students to spend a day in a "familia." The host family will include students in their activities which may involve going to church, shopping for vegetables and other groceries, visiting relatives, celebrating special occasions, etc
:: City tour: Students actively learn about the history of San José and visit the main points of interest in the capital of Costa Rica. Participants visit architecturally historic buildings and learn about Costa Rica during Pre-Colombian times. They also dine at a typical Costa Rican restaurant to get an authentic "taste" of Costa Rica's history and culture.
:: Karaoke: Students are taken to a restaurant where they are encouraged to sing some songs. Karaoke is very popular in Costa Rica and most Ticos are not shy about trying to sing, even if they can't sing well. This is also an opportunity for students to practice what they have learned in their Spanish and dancing classes.
:: Sports : Students play soccer, the most popular game in Costa Rica. They also play basketball, volleyball, and other traditional Costa Rican games with each other as well as Costa Rican students.
:: Bowling: In the evening, students take a bus to San José to enjoy the game and big city atmosphere.
:: Getting Together: Students hang out and play some of their favorite games, practice the dances they have learned, and simply enjoy their time together.
:: Indoor Soccer: In the evening, students are taken with a bus to play soccer in an indoor field.
:: Movies: Participants take a bus to the mall to enjoy a movie of their choice. Movies will be chosen according to season.
:: Roller Skating: Students go by bus to a roller skating rink that is open to the public. This opportunity provides them with fun, relaxation, and exercise. It is a place where they can meet locals and practice their Spanish.
:: Shopping: Students are taken to Moravia, which is famous for handcraft stores. They then travel to the artisan market in San José where they practice the art of bargaining to purchase unique Costa Rican products.
SUMMER PROGRAM FOR TEENS STUDENTS IN COSTA RICA 2010
(Spanish classes are from Monday to Friday from 2:45-5:45 pm)
WEEK

DAY

Monday

Tuesday

Wednesday

Thursday

Friday

Saturday

Sunday

June
7-13

Morn.

Cooking class

Service Learning

Dancing class

Canopy

Barbecue

ArenalVolcano
& Hot Springs

Ev.

Indoor soccer

-

Movie

-

-

June
14-20

Morn.

Sports

Handy Crafts

Service Learning

Country Club

Shopping

Activity
with host
family

Ev.

-

Karaoke & Dancing

-

Roller-skating

-

June
21-27

Morn.

Dancing class

Cooking class

Barbecue

Poas volcano, & La paz Waterfall

Amusement park

Ev.

Indoor Soccer

-

Getting together

-

-

June 28-July 4

Morn.

Service Learning

Country Club

Coffee tour

Sports

Shopping

Activity
with host
family

Ev.

-

Bowling

-

Karaoke & Dancing

-

July 5-11

Morn.

Service Learning

Dancing class

Canopy

Barbecue

renal volcano
& hot springs

Ev.

Indoor Soccer

-

Movie

-

-

July 12-18

Morn.

Sports

Handy Crafts

Service Learning

Country Club

Shopping

Isla Tortuga
beach Cruise

Activity
with host
family

Ev.

-

Karaoke & Dancing

-

Roller-skating

-

July
19-25

Morn.

Dancing class

City
Tour

Cooking
class

Service Learning

Barbecue

Poas volcano, & La paz Waterfall

Dancing
class Indoor Soccer

Ev.

Indoor Soccer

-

Getting together

-

-

July 26- Aug 1

Morn.

Service Learning

Country Club

Sports

Shopping

Punta Leona
Beach & Surf Class

Activity
with host
family

Ev.

-

Bowling

-

Karaoke & Dancing

-

Aug 2-8

Morn.

Service Learning

Dancing class

Canopy

Barbecue

Arenal volcano
& hot springs

Ev.

Indoor Soccer

-

Movie

-

-

Aug.
9-15

Morn.

Sports

Handy Crafts

Service Learning

Country Club

Shopping

Isla Tortuga
beach Cruise

Ev.

-

Karaoke & Dancing

-

Roller-skating

-