YOUR LANGUAGE VACATION INCLUDES SUPERVISED ACTIVITIES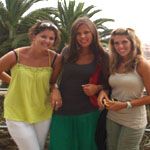 Once lessons are over for the day, teenagers will enjoy a schedule of activities and excursions together.
Below is only a "sample schedule" as each our schedule rotates but will give you an idea of what to expect in Barcelona.
WHAT TO EXPECT ON A TYPICAL DAY IN MARBELLA
08:15 - 08:30 Wake up
08:30 - 09:15 Breakfast
09:15 - 09:30 Groups meet with their counselor
09:30 - 10:15 1st class of Spanish
10:15 - 11:00 2nd class of Spanish
11:00 - 11:30 Break
11:30 - 12:15 3rd class of Spanish
12:15 - 13:00 4th class of Spanish
13:00 - 14:00 Pool, beach or other activities
14:00 - 15:15 Lunch (on the Spanish schedule ) later than in most countries
15:15 - 16:00 Rest period, table games and competitions
16:00 - 18:30 Cultural workshops, beach / pool
18:30 - 20:00 Sports practice, competitions, Olympics
20:00 - 21:00 Shower Time
21:00 - 21:45 Dinner
21:45 - 23:00 Party time, talent nights, etc.
22:30 Kids to bed
23:30 Juniors & Seniors to bed
EXAMPLE OF AFTERNOON ACTIVITIES IN MARBELLA
Guided city tour
Swimming
Trip to beach
Sporting event
Shopping trip
Trekking and hiking on ecological trails
Journalism Workshops (publication of a biweekly newspaper)
Music & Percussion Workshop
Theater Workshop
Lifesaving Workshop
EXAMPLE OF EVENING ACTIVITIES IN MARBELLA
Spanish movie night
Juggling & Circus Workshop
Arts & Crafts Workshops
Cooking Workshop
Flamenco & Sevillanas Workshop
Ballroom Dancing Workshop learn salsa, twist, tango...
EXAMPLE OF EXCURSIONS IN MARBELLA
Each two-week session includes at least one full day & two half-day excursions:
Full-day trips: Seville, Granada, Tarifa and Ronda.
Half-day trips: Puerto Banús, Mijas, Sierra de las Nieves, a city tour of Marbella.
OPTIONAL LESSONS (AT AN EXTRA COST)
Due to scheduling conflicts, those who enroll in the below options may not always be able to participate in ALL of the other camp activities.
These lessons must be BOOKED & PAID for at time of booking.
Teens can only take 1 optional sport per two-week vacation period
Once the lessons have started, cancellations are not permitted
_______________________________________________________

Golf lessons - 18 hours / two-week session
:: Marbella is a golfer's paradise, so where better to begin playing or improve your game - we offer our students a wonderful course - 3 days a week
See price page for prices

Tennis lessons - 8 hours / two-week session
:: Suitable for all levels, students take lessons at El Casco, a nearby tennis school, 3 days per week for 2 hours each day.
See price page for prices.

Horseback Riding lessons - 9 hours / two-week session
:: Riding classes are normally organized into 1.5 hour lessons, 3 days per week for a total of 6 lessons (9 hours) per week. Depending on their level, students are taught various riding techniques such as mounting, galloping, trotting and other skills.
See price page for prices


Paddleball lessons - 12 hours / two-week session
:: The sport of paddleball has grown in popularity in Spain, it is now one of the preferred activities of young Spaniards. Lessons take place at El Casco sports club in Marbella. Students take 2-hour lessons, 3 afternoons per week, with a maximum of 4 students per group.
See price page for prices.


Swimming lessons - 12 hours / two-week session
:: Learn how to swim or perfect your strokes? The summer camp swimming program is designed for campers who want extra time in the camp's pool with 1-hour lessons - 4 days per week.
See price page for prices.