YOUR LANGUAGE VACATION INCLUDES SUPERVISED ACTIVITIES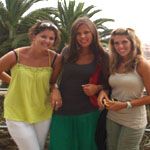 Once lessons are over for the day, teenagers will enjoy a schedule of activities and excursions together.
Below is only a "sample schedule" as each our schedule rotates but will give you an idea of what to expect in Monaco.
WHAT TO EXPECT ON A TYPICAL DAY IN MONACO
8.00am - 9.00am: Day starts, enjoy breakfast with other students and prepare for classes.
9.00am - 12.00am: French Language classes begin, with a small break between lessons
12.15am - 1.00pm: Classes finish for the day and you will enjoy lunch together on campus. Followed by some free time.
2.00pm - 6.00pm: Organized activities together with our staff supervising on or off campus
6.00pm - 7.00pm: Free time, check e-mail, call home, play sports, games etc
7.00pm - 11.00pm: Enjoy dinner before supervised evening activities on or off campus
11.00pm: Return to your lodging and head to bed!
EXAMPLE OF AFTERNOON ACTIVITIES IN MONACO
Guided city tour
Swimming in pool
Walk to beach
Sporting event
Shopping trip
mini-sporting tournaments
Art workshops
Sports
EXAMPLE OF EVENING ACTIVITIES IN MONACO
French movie night
Concerts or festivals
Discotheques
Folk dancing
Barbecues
Magic performances
Circus
Concerts at the amphitheatre
EXAMPLE OF EXCURSIONS IN MONACO
(One full day excursion per week)
Monaco
Nice
Menton
Cannes
Saint-Tropez
Grasse and its perfumes