YOUR LANGUAGE VACATION INCLUDES SUPERVISED ACTIVITIES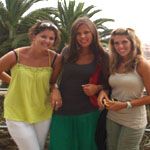 Once lessons are over for the day, teenagers will enjoy a schedule of activities and excursions together.
Below is only a "sample schedule" as each our schedule rotates but will give you an idea of what to expect in San Sebastain. They will enjoy 3 afternoon activities per week, and a full-day excursion every Saturday. Juniors are supervised by a school monitor who coordinates teachers, host families, organisation of activities, and the overall well being of the students.
Teens will have two free afternoons as well as all day Sunday to get to know their host family and become familiar with Spanish traditions and culture. They will enjoy a full day excursion from 10:00 to 18:00 on Saturdays
WHAT TO EXPECT ON A TYPICAL DAY IN SAN SEBASTIAN
8.00am - 9.00am: Day starts, enjoy breakfast with family and travel to school.
9.30am - 13.45am: Language classes begin, with breaks
14.00am - 15.30pm: Classes finish for the day and you will enjoy lunch together.
15.30pm - 19.30pm: Organized activities together with our staff supervising (Monday, Wednesday, Friday)
19.30pm - : Dinner with family, Free time, check e-mail, call home, etc
EXAMPLE OF ACTIVITIES IN SAN SEBASTIAN
Guided city tour by bus
Swimming or ice skating
Trip to beach
Visit the Aqua park San Pedro & San Juan trips
Igeldo fun park
Science museum
Kayaking in bay
Visit Aquarium
Cooking lesson
Mini Cruise
Bike tour & Picnic
Salsa dancing
EXAMPLE OF EXCURSIONS IN SAN SEBASTIAN
Day excursions to city of Vitoria, Biarritz in France, Getaria & Zarautz, Navarra Adventure park, Hondarribia & Hendaye, Bilbao & Guggenheim