<<<< RETURN to BARCELONA HOME PAGE
BARCELONA SPAIN for teenagers aged 5 - 17
"SPANISH IMMERSION VACATION"
_______________________________________________________
LODGING OPTIONS IN BARCELONA
You can choose one of the following lodging options:
SCHOOL RESIDENCE - Live with other students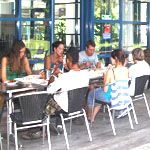 Probably two thirds of our students stay in the residence option, this is probably due to teenagers wanting to live together!
This option offers more formal supervision and our staff live with the teenagers in the residence. Teenagers must abide by rules & curfews.
Our residence is located in our university campus, for location and additional details >> see our Barcelona school page
Things to consider when choosing the residence option:
:: Teenagers lodge ON campus so no travelling to school
:: Staff live in the residence with the teenagers
:: Staff live on the same floor as the teenagers
:: You share a room with another student
:: You will be expected to share the bathroom
:: 3 meals will be provide in the residence cafeteria
:: Meals will be local custom
:: Teens will be given a key to their room
:: A refundable key deposit will be required at time of check in
:: Rooms are cleaned at least once a week
:: Bed linens and pillows will be provided
:: Please bring towels
:: Students must obey rules & curfews
To see photos of our residence in Barcelona >> see our photogallery