<<<< RETURN to Berlin summer vacation HOME PAGE

Berlin Germany for teenagers aged 16 - 17
"SUMMER BERLIN GERMAN IMMERSION VACATION" _______________________________________________________

SCHOOL RESIDENCE - Live with other students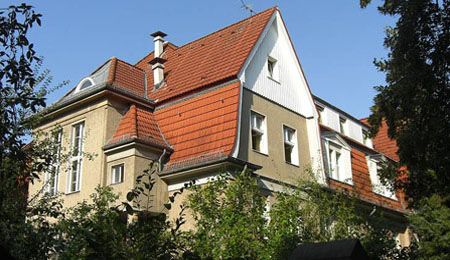 Students will stay in the above reidence on campus in mature grounds
Lessons will take place within our small campus located in the western center of Berlin, near Kurfuerstendammis a famous avenue in Berlin which runs for (2 miles) through the Charlottenburg - Wilmersdorf borough in western Berlin. The nearest Metro stop is Fehrbelliner Platz located a few minutes walk.
Our campus is in a quiet residential district, within its own ground and can hold 40 students.
Campus offers the following facilities:
:: Student social lounges, TV room & study rooms
:: Outside sun terraces
:: On-campus cafeteria
:: Holds 40 students
:: Easy access to metro stop
:: Close to supermarkets, shops, banks, pharmacy
:: The lodging is also on site so no walking to school!
:: Large classrooms
:: Computer room with internet access
:: See our photogallery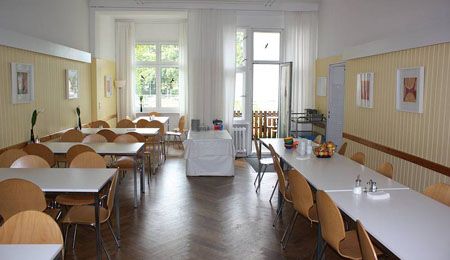 Students will wnjoy meals in the above on campus cafeteria
Students living in the residence will be a mix of international students. This allows international students the opportunity to make friends of their own age by living, studying, playing, and practicing languages together 24 hours a day.
Things to consider when living in the residence:
:: Students share twin rooms
:: Staff live in the residence with the teenagers
:: Staff live on the same floor as the teenagers
:: 3 meals will be provide
:: Meals will be local custom
:: Teens will be given a key to their room
:: A refundable key deposit will be required at time of check in
:: Rooms are cleaned at least once a week
:: Bed linens and pillows will be provided
:: Please bring towels
:: Students must obey rules & curfews
Students will enjoy 3 meals daily in the campus cafeteria, the camp runs on the German eating schedule. For those teens with special dietary needs (vegetarian, allergies, etc) please advise us upon booking!