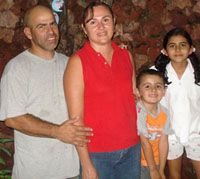 Become fully immersed into the language and culture of Heredia. Families are chosen after a careful selection procedure and host our students on a regular basis.
This option offers formal supervision each teen will have a chaperone who picks them up at the airport, accompanies them on all activities, and takes them to/from school each day and assists with anything they might need.
Students are not allowed to go out by themselves due to safety precautions.
Things to consider when choosing the homestay option:
:: Students can stay in a private room or share with another student (only if they request to share).
:: You may share the bathroom with the family or have a separate student bathroom.
:: The homestay will provide breakfast & dinner each day at the home
:: Lunch will be provided at the school or nearby
:: Meals will be local custom
:: Homestays are within within 5 minutes on foot.
:: Bed linens and pillows will be provided
:: Please bring towels
:: Students must obey house rules