LODGING OPTION IN MARBELLA
SCHOOL CAMPUS - Live with other students
40% of students attending are international students learning Spanish & 60% are Spanish students learning English!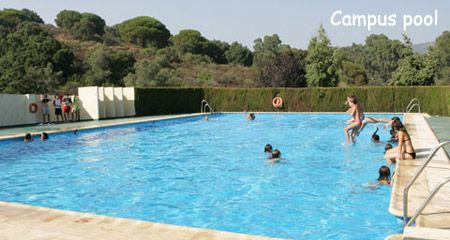 Our students stay in the residence on campus, live together under formal supervision and our staff live with the teenagers in the residence. Teenagers must abide by rules & curfews.
Our Marbella (Alborán Campus) is located on a beautiful private campus which covers 38,000m2 and is amply shaded by a surrounding thick wood of pine trees, which creates a tranquil, pleasant atmosphere. Just 8 km (13 miles) from the center of Marbella and a short ride from the Hotel Don Carlos and the city's General Hospital, our prestigious center is also a 15-minute walk from the beach!
The camp's central building consists of the dorm rooms, a dining hall, and a residential area for counselors and coaches.
Sports facilities include
:: Large swimming pool with covered showers
:: Multipurpose sports area
:: Paddleball court
:: 2 soccer fields (one grass and one paved)
:: Basketball/ mini-soccer court
:: A handball court and two stables
:: There is also a newsstand and a game hall
Things to consider:
:: Teenagers lodge ON campus so no travelling to school
:: Staff live with the teenagers
:: At least one counselor sleeps in each dorm
:: Dormitory rooms are furnished with bunk beds and closets
:: Dorms accommodate 8-12 students / grouped according to age and sex
:: You will be expected to share the bathroom
:: The shower house, is set apart from the residence
:: 3 meals will be provide in the campus cafeteria
:: Meals will be local custom
:: Rooms are cleaned at least once a week
:: Bed linens and pillows will be provided
:: Please bring towels
:: Students must obey rules & curfews
To see photos of our residence in Barcelona >> see our photogallery