HOMESTAY - Live in the home of a local family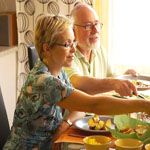 This option offers less formal supervision and you will expected to travel independently to/from the school each day, normally by public transit.
This option is for the more independant & mature teenager however they must abide by rules & curfew times.
Things to consider when choosing the homestay option:
:: Students can stay in a private or shared room
:: You will be expected to share the bathroom with the family
:: Breakfast with family from 8:30 to 9:00
:: Dinner and entertainment with the family starting at 20:00
:: Meals will be local custom
:: Each student will be given a key to their lodgings
:: Bed linens and pillows will be provided
:: Please bring towels
:: Students must obey rules & curfews
>> see our photogallery
Each student will be placed with a family with whom they will live during their stay here. Breakfast and dinner will take place with the family. This system works well because the student receives the support of a family structure and will be looked after when not participating in school functions.
The families we use for this programme are carefully chosen with the junior programme in mind. The student will receive a warm welcome and become another member of the household. Students must respect the programme schedule and inform the family of any outings they have during the designated free time periods.