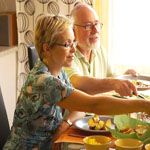 Probably a third of our students stay in this option, this is a popular option and the most effective way to become fully immersed into the language and culture of Tarragona. Families are chosen after a careful selection procedure and host our students on a regular basis.
This option offers less formal supervision and you will expected to travel independently to/from the school each day, normally by public transit.
This option is recommended for the more independant & mature teenager (aged 16+) however they must abide by the same rules & curfew times as the teenagers staying in the residence option.
Things to consider when choosing the homestay option:
:: Students can stay in a private room or share with another student
:: You will be expected to share the bathroom with the family
:: The homestay will provide breakfast & dinner each day at the home
:: Lunch will be provided at the school or nearby
:: Meals will be local custom
:: Homestays are within 5 - 25 minutes by public transport
:: Each student will be given a key to their lodgings
:: Bed linens and pillows will be provided
:: Please bring towels
:: Students must obey rules & curfews
SCHOOL RESIDENCE - Live with other students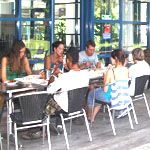 The residence is part of the local university and is located about a 12 - 15 minute walk to the school building, students will walk together in groups to/from the school each day.
The residence provides accommodation throughout the academic year to students from the University of Tarragona and is very well maintained. The building is an attractive and bright 4-storey facility with a maximum capacity of 175 residents - our summer camp takes over 2 floors for our students, each year.
This option offers more formal supervision and our staff live with the teenagers in the residence. Teenagers must abide by rules & curfews.
Things to consider when choosing the residence option:
:: Staff live in the residence with the teenagers
:: Staff live on the same floor as the teenagers
:: 24-hour reception
:: You share a room with another student
:: You will be expected to share the bathroom
:: Two multi-showered rooms per floor, per gender
:: TV lounge & social areas
:: Internet / computer lab room
:: Study area
:: Small gymnasium
:: Several coin operated washing machines
:: 3 meals will be provide (lunch will be packed)
:: Meals will be local custom
:: Teens will be given a key to their room
:: A refundable key deposit will be required at time of check in
:: Rooms are cleaned at least once a week
:: Bed linens and pillows will be provided
:: Please bring towels
:: Students must obey rules & curfews
To see photos of our residence in Tarragona >> see our photogallery