LODGING OPTIONS IN VALENCIA
You can choose one of the following lodging options:
SCHOOL RESIDENCE - Live with other students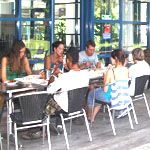 Probably two thirds of our students stay in the residence option, this is probably due to teenagers wanting to live together!
This option offers 100% supervision and our staff live with the teenagers in the residence. Teenagers must abide by rules & curfews.
Approx. 40% of the students living in the residence will be Spanish and the remainder will be international students. This allows international students the opportunity to make Spanish friends of their own age by living, studying, playing, and practicing languages together 24 hours a day.
Spanish and international students are only separated during their morning language classes, they will experience everything else together!
Things to consider when choosing the residence option:
:: Teens live in triple rooms with full bathroom
:: Wi-Fi internet access and air conditioning
:: Staff live in the residence with the teenagers
:: Staff live on the same floor as the teenagers
:: 3 meals will be provide
:: Meals will be local custom
:: Teens will be given a key to their room
:: A refundable key deposit will be required at time of check in
:: Rooms are cleaned at least once a week
:: Bed linens and pillows will be provided
:: Please bring towels
:: Students must obey rules & curfews
In order for students to discover Spanish culture to the fullest, the camp runs on the Spanish eating schedule: light breakfast, big lunch around 2:00pm, and a light dinner. The majority of the summer camp menu consists of Mediterranean & Spanish food.