This option offers 100% supervision and our staff live with the teenagers in the residence. Teenagers must abide by rules & curfews.
Students living in the residence will be a mix of international students. This allows international students the opportunity to make friends of their own age by living, studying, playing, and practicing languages together 24 hours a day.
Things to consider when living in the residence:
:: Boys and girls live on different floors
:: They share spacious and comfortable 4 - 6 bedded rooms
:: They share showers on each floor
:: Staff live in the residence with the teenagers
:: Staff live on the same floor as the teenagers
:: 3 meals will be provide
:: Meals will be local custom
:: Teens will be given a key to their room
:: A refundable key deposit will be required at time of check in
:: Rooms are cleaned at least once a week
:: Bed linens and pillows will be provided
:: Please bring towels
:: Students must obey rules & curfews
:: A limited number of "Superior rooms" (slightly higher standard of accommodation) is available. Superior rooms are shared by only 3 students and have their own shower in the room. These rooms are a little more expensive and booked on a first come first served basis as we have a limited number of Superior rooms!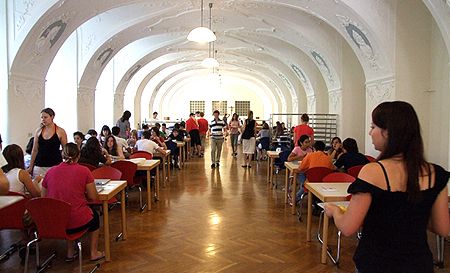 Students will enjoy 3 meals daily in the campus cafeteria, the camp runs on the Austrian eating schedule. For those teens with special dietary needs (vegetarian, allergies, etc) please advise us upon booking!
Sample menu: (what to expect each day):
Breakfast: 8am - 9.00am
(Buffet with sliced sausage, cheese, jam, bread, tea, coffee or cacao)
Lunch: 12.30pm -1.15 m
(3 courses with starters, warm main dish and desert)
Dinner: 6.00pm - 7.00pm
(Mostly always warm main dishes - sometimes cold after excursions, sometimes barbecue evenings. All meals are self-service and you are welcome to go back for extra servings)