OUR SCHOOL LOCATION (MAP)
(Approx location)

View Larger Map
Our summer school campus is situated on a peaceful, safe and stunning pine wood area, which opens out to the private beach and the beautiful waters of the Adriatic Sea.
Located in center of a larger residential village called the "Villaggio Adriatico" which also hosts holiday programs for Italian teenagers during the summer months, offering our teens the opportunity to interact with the Italian teenagers in activities and by sharing rooms with them in the residence accommodation.
:: MAP OF SUMMER CAMPUS: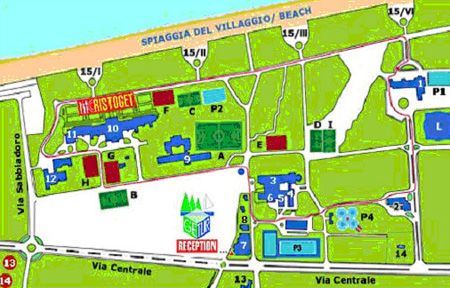 :: Campus - Outdoor facilities include:
A Synthetic Soccer field (approved by UEFA and FIFA)
B Synthetic Soccer and handball field
C Synthetic Soccer and handball field
D Synthetic Soccer and handball field
E Basketball and volleyball court
F Basketball and volleyball court
G Basketball and volleyball court
H Basketball and volleyball court
I Tennis court
L Sports arena
P1 Alle Vele - swimming pool
P2 Alle Dune - swimming pool
P3 Olympic Swimming pool
P4 Aquagiò
Beach Volley fields can be set up on the wide private beach
:: See our photogallery
:: Campus - Learning & other facilities include:
Large beautiful campus / private beach / sports
Social areas / snack bars / TV room, common areas
Indoor & outdoor classrooms
Small class sizes max 12 students
3 swimming pools
Internet access
TV lounge
Dining room with cafeteria
All staff reside on campus at all times
Nursing station with doctor in attendance 24 hours

:: Campus - Accommodation facilities include:
Rooms:
Shared residence rooms (assigned according to age and gender) - 3 or 4 students per room.
Most rooms offer a private ensuite bathroom
Share with teens of different nationalities
Bedrooms are cleaned daily but guests will make their own beds, etc
Bed-linen will be provided and will be changed weekly
Meals:
3 meals provided daily
All meals are served on campus at the residence restaurant
Three hot buffet meals are provided every day in the residence restaurant.
Students can help themselves to a full continental breakfast, lunch and dinner and in the afternoon they will also have a satisfying snack. When students are on a full day excursion, they will be given a packed lunch of sandwiches, fruit and a drink.