<<<< RETURN to MONACO HOME PAGE

MONACO (CAP d AIL) FRANCE for ages 12 - 16
"FRENCH IMMERSION VACATION"
_______________________________________________________

OUR SCHOOL LOCATION (MAP)
(Approx location)

View Larger Map

DESCRIPTION & FACILITIES OF OUR CAMPUS IN MONACO

Our teen French immersion takes place in a truely stunning campus high on a hill overlooking the Mediterranean surrounded by nature.

The campus is located in Cap d'Ail on the outskirts of Monaco (approximately 100 metres above the Mediterranean), once a strategic site for Emperor Augustus's Roman army.

Set in a beautiful mature campus/park it offers not just a beautiful setting but excellent facilities including:

:: A spectacular amphitheatre
:: Three oncampus residences
:: Oncampus cafeteria
:: Classrooms
:: Computer room with internet access
:: Student social lounges & study rooms
:: Outside sun terraces
:: Snack machines available
:: Walking distance to beach (approx 20 minutes)
:: Beautiful gardens
:: Located only 1km from Monaco
:: Located only 20km from Italy
:: Located only 18km from Nice
:: Close to supermarkets, shops, banks, pharmacy
:: See our photogallery




TEENAGER FRENCH COURSE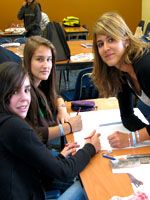 Our language course is the main focus of the language vacation and is designed to be interesting and entertaining. Our aim is for our teenagers to enjoy themselves whilst learning as much as possible in a short period of time. The methodology is centered on a communicative approach, utilizing diverse techniques to cover the fundamentals of language learning: grammar, speaking, listening, vocabulary, pronunciation, writing & intercultural competence.
Our Teenager French language courses are taught by professional and experienced language teachers. On the first day of class (Monday), your language level will be assessed by taking a placement test (unless your a complete beginner) and based on the results you will be placed in an appropriate class for your level.
Language classes run Monday - Friday each morning:
Example class schedule
09:00 - 12:30 French classes with small break
Class sizes can range from 8 - 15 students per class.
A language lesson normally represents 45 minutes and not a full hour.
All teenager language students receive a certificate at the end of the course upon request.