OUR SCHOOL LOCATION (MAP)
(Approx location)

DESCRIPTION & FACILITIES OF OUR CAMPUS IN MONTPELLIER
The school is a 15-minute walk from the city centre, and 5-minute walk from the student residence. It is a safe school enclosed by a gate, with a playground area, and a cafeteria.
TEENAGER FRENCH COURSE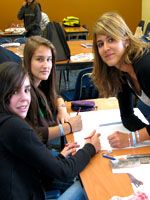 Our language course is the main focus of the language vacation and is designed to be interesting and entertaining. Our aim is for our teenagers to enjoy themselves whilst learning as much as possible in a short period of time. The methodology is centered on a communicative approach, utilizing diverse techniques to cover the fundamentals of language learning: grammar, speaking, listening, vocabulary, pronunciation, writing & intercultural competence.
Our Teenager French language courses are taught by professional and experienced language teachers. On the first day of class (Monday), your language level will be assessed by taking a placement test (unless your a complete beginner) and based on the results you will be placed in an appropriate class for your level.
Language classes run Monday - Friday each morning:
Example class schedule - 09:00 - 12:30 French classes with small break
Class sizes can range from 8 - 15 students per class.
A language lesson normally represents 45 minutes and not a full hour.
All teenager language students receive a certificate at the end of the course upon request.