<<<< RETURN to SALAMANCA HOME PAGE

SALAMANCA SPAIN for teenagers aged 5 - 17
"SPANISH IMMERSION VACATION"
_______________________________________________________

OUR CAMPUS LOCATION (MAP)

View Larger Map

DESCRIPTION & FACILITIES OF OUR CAMPUS IN SALAMANCA

Our summer language vacation is located within campus grounds next to the old city walls, in the heart of the historic center with downtown within walking distance. The campus building itself is a prime example 19th century Castilla y León architecture constructed around a tranquil courtyard in the shape of a U.

The courtyard a classic cloister is visible from any of our center's large, interior glass windows. The patio's magnificent adornment and structure is complimented by an adjacent 16th century church, Las Bernardas. Considered some of the best examples of the Spanish Plateresque style, these architectural gems are only accessible to those who attend our school!

Closeby there is an extensive sports facility which includes a football (soccer) field, a basketball court, a handball court, a frontón (Basque handball court), a volleyball court, an in-line skating rink and swimming pool.

Our students live & study on campus under formal supervision of our campus staff.

Facilities include
:: Large classroms over 5 floors
:: Large conference room
:: Video room
:: Computer room with internet access
:: Student residences
:: Student social lounges & study rooms
:: On campus Cafeteria
:: See photos of our campus in salamanca >> see our photogallery




TEENAGER SPANISH COURSE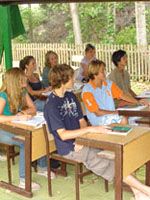 Our language course is the main focus of the language vacation and is designed to be interesting and entertaining. Our aim is for our teenagers to enjoy themselves whilst learning as much as possible in a short period of time. The methodology is centered on a communicative approach, utilizing diverse techniques to cover the fundamentals of language learning: grammar, speaking, listening, vocabulary, pronunciation, writing & intercultural competence.
Our Teenager Spanish language courses are taught by professional and experienced language teachers. On the first day of class (Monday), your language level will be assessed by taking a placement test (unless your a complete beginner) and based on the results you will be placed in an appropriate class for your level.
During these morning lessons the Spanish and international students are separated; they rejoin in the afternoon and at night for a variety of activities.
Language classes run Monday - Friday each morning:
Example class schedule
09:30 - 10:15 1st class of Spanish
10:15 - 11:00 2nd class of Spanish
11:00 - 11:30 Break
11:30 - 12:15 3rd class of Spanish
12:15 - 13:00 4th class of Spanish
Teenagers will enjoy 4 group lessons per day (20 lessons per week), class sizes can range from 8 - 12 students per class.
A language lesson normally represents 50 minutes and not a full hour.
All teenager language students receive a certificate at the end of the course upon request.