OUR SHANGHAI LOCATION (MAP)
(please be patient whilst the map downloads - it will only take seconds)
DESCRIPTION & FACILITIES OF OUR SCHOOL IN SHANGHAI
Located in the heart of the city off Nanjing Road Pedestrian Street, Shanghai's premier shopping street (over 3 miles long) this area attracts thousands of fashion-seeking shoppers from all over the world.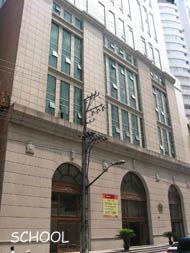 Open-air bars, abstract sculptures, and lingering sounds from street musicians enhance strolls. A trackless sightseeing train provides a comfortable tour of the night-transformed pedestrian street. Flashing neon signs illuminate the magnificent buildings and spangle the night skyline of this lively city.
Facilities include
:: Modern rooms
:: 20 + Large classrooms
:: Social areas with WiFi
:: Close to various subway and bus stops
:: See photos of our school in Shanghai >> see our photogallery