SCHOOL RESIDENCE IN PARIS - Live with other students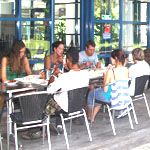 Our residence is on campus in the south of Paris (Issy les Moulineaux) and only 20 minutes from the centre of Paris, by public transport.
The residence is located in a large modern building next to the Exhibition Park of Porte de Versailles, less than 5 minutes walk from Aquaboulevard and a short walk to "Corentin Celton" (line n°12) metro stop.
Our residence offers 24 hour formal supervision and our staff live with the teenagers in the residence. Teenagers must abide by rules & curfews.

Residence facilities include:
:: 4 - bedded rooms with shared facilities for students
:: The rooms offer beds, table, chair, and small wardrobe for each student
:: Communal showers and shared toilets on each floor
:: Bed sheets are provided and changed every two weeks
:: Towels are provided
:: On campus self - service restaurant & cafeteria
:: Common & social rooms
:: Table tennis, volleyball, basketball in the gym hall
:: Public phone (phonecard at reception)
:: Students will be expected to pay A refundable 80 EURO key deposit.
:: 3 meals daily are provided
:: Students must obey rules & curfews
:: See our photogallery