LODGING OPTIONS IN MONTREAL
You can choose one of the following lodging options:
HOMESTAY - Live in the home of a local family
:: This option is recommended for the more independant & mature teenager.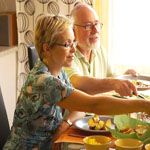 This is a popular option for our mature teens who are looking for more independance and the most effective way to become fully immersed into the language and culture of Montreal. Families are chosen after a careful selection procedure and host our students on a regular basis.
This option offers less formal supervision than styaing in the residence and students will expected to travel independently to/from the school each day, normally by public transit.
Things to consider when choosing the homestay option:
:: Students stay in a private room
:: You will be expected to share the bathroom with the family
:: The homestay will provide breakfast & dinner each day at the home
:: Lunch will be provided at the school or nearby
:: Meals will be local custom
:: Homestays are within 15 - 45 minutes by public transport
:: This options includes a metro pass
:: Each student will be given a key to their lodgings
:: Bed linens and pillows will be provided
:: Please bring towels
:: Students must obey rules & curfews
>> additional details on living in a homestay