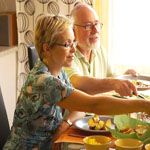 This is a popular option and the most effective way to become fully immersed into the language and culture of Nice, France. Families are chosen after a careful selection procedure and host our students on a regular basis.
This option offers less formal supervision and you will expected to travel independently to/from the school each day, normally by public transit.
This option is for the more independant & mature teenager however they must abide by the same rules & curfew times as the teenagers staying in the residence option.
Things to consider when choosing the homestay option:
:: Students share with another student
:: You will be expected to share the bathroom with the family
:: The homestay will provide breakfast & dinner each day at the home
:: Lunch will be provided at the school
:: Meals will be local custom
:: Homestays are within 10 - 30 minutes by public transport
:: Each student will be given a key to their lodgings
:: Bed linens and pillows will be provided
:: Please bring towels
Students must obey rules & curfews (see below)
1. Minors are not allowed to drink alcohol
2. Any minor over 16 but under 18 can go out at night alone until 12.30 a.m, but only on week ends.
3. Passports must be deposited in care of the host family upon arrival.
4. We also remind you that host families have to write a letter to the French Embassy of the student's country stating their acceptance of responsibility before the student can obtain his or her visa. By approving and signing the above rules, parents will encourage the host family to carry this responsibility.
5. Please remember these rules are aiming to protect the students, and to ensure their safety during their stay with us.
SCHOOL RESIDENCE - Live with other students
(8 - 17)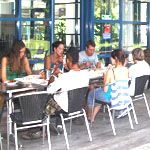 Probably the most popular option due to teenagers wanting to live together!
This option offers more formal supervision and our staff live with the teenagers in the residence. Teenagers must abide by rules & curfews.

Things to consider when choosing the residence option:
:: Teenagers will study on campus
:: Staff live in the residence with the teenagers
:: Staff live on the same floor as the teenagers
:: You will be expected to share the bathroom
:: 3 meals will be provide daily
:: Meals will be local custom
:: Teens will be given a key to their room
:: A refundable key deposit will be required at time of check in
:: Rooms are cleaned at least once a week
:: Bed linens and pillows will be provided
:: Please bring towels
:: Students must obey rules & curfews
:: See our photogallery