LODGING OPTIONS IN QUEBEC CITY
You can choose one of the following lodging options:
HOMESTAY - Live in the home of a local family
:: This option is recommended for the more independant & mature teenager aged 16+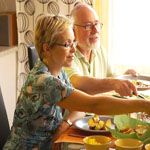 This is a popular option for our mature teens who are looking for more independance and the most effective way to become fully immersed into the language and culture of Quebec City. Families are chosen after a careful selection procedure and host our students on a regular basis.
This option offers less formal supervision than styaing in the residence and students will expected to travel independently to/from the school each day, normally by public transit.
Things to consider when choosing the homestay option:
:: Students stay in a private room
:: You will be expected to share the bathroom with the family
:: The homestay will provide breakfast & dinner each day at the home
:: Lunch will be provided at the school or nearby
:: Meals will be local custom
:: Homestays are within 15 - 45 minutes by public transport
:: This options includes a metro pass
:: Each student will be given a key to their lodgings
:: Bed linens and pillows will be provided
:: Please bring towels
:: Students must obey rules & curfews
>> additional details on living in a homestay
SCHOOL RESIDENCE - Live with other students
:: This option is open to all ages 10 - 17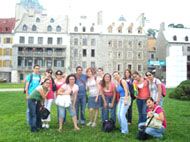 This is our most popular option probably due to teenagers wanting to live together and the 24 hour supervision!
This option offers formal supervision and our staff live with the teenagers in the residence. Teenagers must abide by rules & curfews.
DESCRIPTION & FACILITIES OF OUR RESIDENCE IN QUEBEC CITY
Our teen French immersion takes place on a beautiful College campus close to the city center.
Our College Residence is located within the grounds of our college (Merici College) which is adjacent to the Plains of Abraham and overlooking the majestic St. Lawrence River. Only a stones's throw from the sites and attractions of Old Québec, the College is cradled in the open spaces and wooded parkland of the Battlefields National Park. The campus is well served by the public transit systems of the Quebec Urban Community and the different municipalities on the south shore.
The Residence has excellent facilities:
:: Only 15 minutes walk to city center
:: Large campus grounds and parkland
:: Dining room
:: Computer room with internet access
:: Student social lounges & study rooms
:: Outside sun terraces and social areas
:: Easy access to public transport
:: Sports fields, basket ball courts & gym
:: Students stay in private rooms
Things to consider when choosing the residence option:
:: Staff live in the residence with the teenagers
:: Students stay in a shared room
:: 3 meals will be provide in the residence cafeteria
:: Meals will be local custom
:: Teens will be given a key to their room
:: A refundable key deposit will be required at time of check in
:: Rooms are cleaned at least once a week
:: Bed linens and pillows will be provided
:: Please bring towels
:: Students must obey rules & curfews
To see photos of our residence in Quebec City >> see our photogallery