Studying in the country a language is spoken is the most effective way to learn another language. So why not combine your SUMMER vacation with a language course and enjoy a TOTAL LANGUAGE IMMERSION VACATION!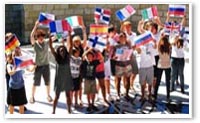 :: Study with international students!
Our students come from around the world , different cultural backgrounds and diversity. We don't believe sending a group of students from the same country is the way to a true immersion.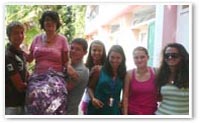 :: Staff supervised programs
Our teenager students are fully supervised by experienced moniters and teachers. ALL teenagers MUST obey and respect rules, program curfews and follow instructions.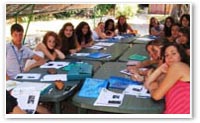 :: We accept all language levels
Our daily group language lessons are the main focus of the language vacation and designed to be interesting, entertaining and centered on a communicative approach.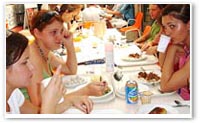 :: Transfers, lodging & meals
We offer lodging options: live with a local Host family or in a student residence. Teens share rooms and receive 3 meals daily. All airport transfers are included
:: Activities & excursions
Once lessons are over for the day, teenagers will enjoy a schedule of activities and excursions together. At the weekends enjoy day excursions to local cities or places of interest.
:: A true immersion experience
Get to know the local people, immersing yourself in their culture , as well as the language. Enjoy daily language lessons followed by optional activities or weekend excursions with other international students.
Speaking, reading, listening to native speakers every day, you will gradually learn how they think, behave and live.
We will give you unbiased help in choosing the right type of language vacation to match your needs, supervision level, schedule of activities and more.

We work with only the most professional language partners recognized by the following language organizations, guaranteeing the highest quality language courses abroad.